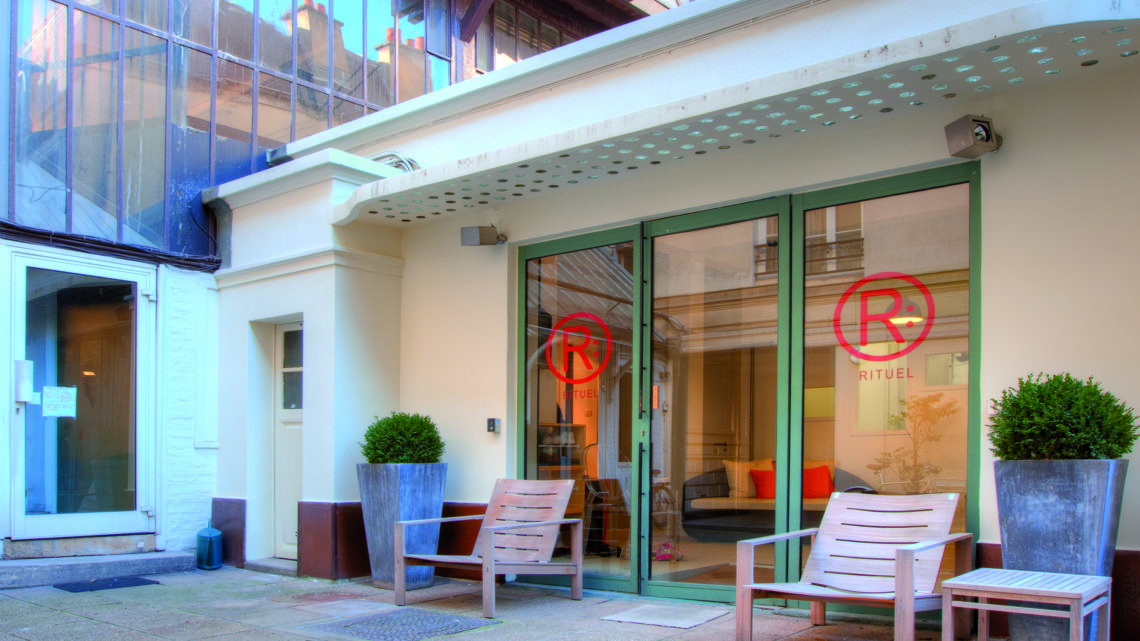 Centre de Pilates , Gyrotonic , Gyrokinesis, Yoga , Floorballet , Xtendbarre 
Centre de Formation Pilates ( Body Arts & Science International BASI )
Centre de Formation Gyrotonic et Gyrokinesis
Téléphones :

Fixe : +33 (0)1 53 10 86 00
Mobile : +33 (0)6 18 96 95 45

Adresse e-mail :

contact@studio-rituel.paris

Site web :
Adresse :
16 RUE DE LA GRANDE CHAUMIÈRE
75006 PARIS
code 79A14 cour
Horaires d'ouverture :
lundi 8h
mardi 8h
mercredi 8h
jeudi 7H30
vendredi 8h
samedi 8h30
dimanche 8h30
23 mai 2019 - 16 décembre 2019
FORMATION PILATES BASI
PILATES FORMATION BODY ARTS & SCIENCE INTERNATIONAL ( BASI ) 2019/20 
Cette formation Compréhensive de 600 heures inclue le répertoire sur tapis et les appareils Pilates y inclu le F2 System Arm Chair  et F2System  Step Barrel  ;
première session débute en mai  :
Modules 1-4 : du 23 au 26 mai , 2019
de 12h -19h jeudi, 13-20h vendredi au dimanche
Séminaire révision lun 27 mai , 15 à 19h
Modules 5-8 : du 5 au 8 septembre,
de 12h -19h jeudi, 13-20h vendredi au dimanche
Séminaire révision lun 9 sept 15 à 19h
modules 9-12 : du 12 au 15 déc
de 12h -19h jeudi, 13-20h vendredi au dimanche
Séminaire révision lun 16 déc 15 à 19h
Lieu :
16 RUE DE LA GRANDE CHAUMIÈRE
75006 paris
Téléphone :

+33 (0)1 53 10 86 00

Site web :

Prix :

4 720,00 €
15 juin 2019 - 16 juin 2019
Ostéoporosis in Depth
2 Stages avec Rebekah Rotstein 
 Ostéoporose & Spiraling Arms , Backbends  
( en anglais , traduit en français ! )
OSTEOPOROSIS IN DEPTH : 
juin 15, 13-20h 
1 in 3 women over the age of 50 and 1 in 5 men have low bone density with prediction of a fracture in his or her lifetime. Meanwhile, younger individuals are getting diagnosed with osteoporosis more frequently. This fundamentals workshop provides the scientific basis of understanding osteoporosis in a comprehensive yet accessible format.
Bone physiology and metabolism to understand normal versus excessive bone loss

How osteoporosis is diagnosed and how to interpret a bone density report
Risk factors and prevention methods
Recent research findings about osteoporosis and its precursor, osteopenia
The biomechanics of bone loading
The importance of bone density versus bone quality
Bone strengthening protocols and safe exercises for osteoporosis
Balance and posture enhancement tools
Myths versus realities of movement contraindications for bone loss 
Psychological considerations for this population
Up-to-date information on medication and nutrition guidelines
Combining science and movement along with Rebekah's personal experience as a patient, the workshop synthesizes lecture along with practical exercises to empower yourself and your clients. Enhance your critical thinking skills and expand your knowledge of functional anatomy in a fun and creative environment. You'll walk away with a fresh outlook and techniques to implement immediately!

SPIRALING ARMS AND BACKBENDS : 
dim 16 Juin 12-18h30 
Many of us don't leverage the spirals of the upper quarter — aside from rotation of certain fingers in texting. This workshop explores the spirals and 3D movement within the structural elements of the trunk, arms and neck via the fascia as the great connector and the basis of tensegrity. Through useful weight-bearing hand sequences and hanging motions we can restore natural movement patterns and enhance motor control. Whether you or your clients are exceptionally stiff or hypermobile, you will experience increases in strength and mobility that also improve joint integrity and stability. Learn how these elements translate into backbends and better spinal motion, postural control and greater freedom in the body. Discover the secret to more fluid, integrated movement!
Lieu :
16 RUE DE LA GRANDE CHAUMIÈRE
75006 paris
Téléphone :

+33 (0)1 53 10 86 00

Site web :

Prix :

385,00 €
9 mars 2019 - 11 mars 2019
Stage Biotensegrity
Joanne Avison  
fascia as the tensional network of connective tissues; the fabric of the human form. Research into fascia is revealing a whole new context for understanding the human body both at rest and in motion.
bridging the divide between the application of classical anatomy and real-life experiences of practicing and teaching movement.
examining recent research and the paradigm shift from the classical anatomy of the musculoskeletal system to the new perspective the fascia provides."BioTensegrity is an emerging context for biomotional integrity. That is – how we move the way we do. Understanding the fascia and the fabric of our form is relatively meaningless, without the architectural organisation of that fabric, explaining how it permits movement and indeed manages the movement forces we move (that move us). We are formed under tension; pre-stressed or pre-stiffened – but what does that mean to us as movement teachers or manual therapists? What are the implications of tensional forces through the matrix of our living, animated form? The fascia is a force transmission system. BioTensegrity offers a very compelling paradigm that makes sense of its many structures and functions and multifaceted assets."
Joanne Avison
is an international teacher of applied structural anatomy for movement and manual practitioners in a variety of fields. She is a professional Structural Integration practitioner and certified teacher (KMI, Anatomy Trains 1998-2005 Tom Myers' school) and Director of the Art of Contemporary Yoga Teacher Training, London, UK. As an advanced Yoga Practitioner and Certified Yoga Therapist, the art, craft and science of yoga and body architecture are something Joanne is very passionate about learning and teaching!
As a Member of the BioTensegrity Interest Group (B.I.G.), Joanne is fascinated by the application of BioTensegrity principles to the understanding of the human blueprint and natural biomotional organisation. Her writing and workshops are devoted to making this emerging context for human movement applicable and clearly understood.
Lieu :
16 RUE DE LA GRANDE CHAUMIÈRE
75006 paris
Téléphone :

+33 (0)1 53 10 86 00

Site web :

Prix :

Free